Profile
Grant Access
Subscribe
Track Account
the quiet professor
I am the edge
Seed Account
Created on 2009-05-01 11:14:21 (#160510), last updated 2016-07-06 (50 weeks ago)
1,353 comments received, 959 comments posted
1,183 Journal Entries, 1,082 Tags, 4 Memories, 163 Icons

About
| | |
| --- | --- |
| Name: | the quiet professor |
| | |
| Location: | Canada |
| | |

Mini Bio
I belong to no religion. My religion is Love. Every heart is my temple.
~Rumi
Logos
one who speaks

pilgrim
a wanderer, a person who journeys

When there is no place you've decided to call your own, no matter where you go, you are always heading home.
~Muso Soseki
Out beyond ideas of wrongdoing and rightdoing, there is a field. I will meet you there.
~Rumi
Trevor Goodchild: Whose side are you on?
Aeon Flux: I take no side.
Trevor Goodchild: You're skating the edge.
Aeon Flux: I am the edge.
Heartfelt greetings to you. I am a small androgyne, a bi-romantic asexual person, and reside in the Great White North with my beloved better half and my cat Potion. I am solitary by nature but also quite friendly. I enjoy sitting in my garden and quietly gazing at trees and the sky. I am a renegade, a cosmic love vagabond, and spend most of my time writing
books
in
my strange and snug curiosity shop of an office
. Professor Severus Snape is one of my favorite topics; I have written a number of books about him (a series of mystical essays). I have begun writing horror and science-fiction novels, and I'm enjoying this a great deal!
My days are devoted to pondering life, the universe, and everything... I am also known as the quiet professor.
I am a secular humanist and gonzo maverick. My definition of mysticism is living in the moment, being comfortable with ambiguity, and wearing silly socks.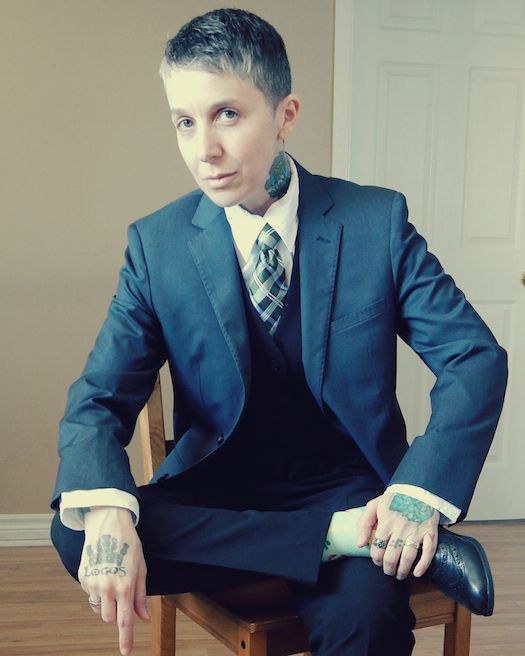 Loved ones on my flist are invited to join my community,

robed_embrace
.
If you would like to subscribe to my
website
, here is
the feed
.


in memoriam



koinegeek,

mixedborder,

ladystrange2000,

fodirteg,

elseinane, and

brotherskeeper1


Connect
a christmas carol
,
ace of hearts
,
aeon flux
,
ahimsa
,
albator
,
alice in wonderland
, amadeus mozart,
anthony bourdain
,
apothecary jars
,
arvo pärt
,
asexuality
, astrotheology,
atheism
, babouches,
baraka
,
baroque
,
bi-romantic
,
bob ross
,
british comedies
,
buddhism
,
c.g. jung
,
captain harlock
,
caspar david friedrich
,
charlie chaplin
,
chocolate
,
classical music
,
colonel brandon
,
columbo
,
compassion
,
curiosities
,
documentaries
,
dudeism
,
edward gorey
,
elvis presley
,
eraserhead
,
erik satie
,
ethereal music
,
foreign films
,
genderfluidity
,
genderqueer
,
gustav mahler
,
hinduism
,
history
,
holly hobbie
,
iconoclasm
,
incense
,
infj
,
introversion
,
literature
,
menswear
,
moleskine notebooks
,
mythbusters
,
painting
,
peace
,
pee wee herman
,
photography
,
psychobilly
,
robert englund
,
romanticism
,
ruins
,
secular humanism
,
seinfeld
,
severus snape
,
sheldon cooper
,
sleigh bells
,
solitude
,
spirituality
,
taoism
,
tarot
,
tattoos
,
the big bang theory
,
the big lebowski
,
the dead kennedys
, the trash pack,
tiki
,
tranquility
,
v
, valentin silvestrov,
victorian naturalists
,
vintage cartoons
,
writing

People
[View Entries]

Gives Access To (94):
abigail89
,
ajnadragonheart
,
akemi42
,
alabastard
,
alabastardragon
,
alchemia
,
alisanne
,
amandagrabler
,
amanuensis1
,
azarias
,
battyhelen
,
belluthien
,
bethbethbeth
,
chazpure
,
condwiramurs
,
constantcomment
,
cordelia_v
,
crazy_catlady
,
dickgloucester
,
dragonsinger
,
dragonsinger_dragoncrafts
,
droxy
,
faithinseeds
,
fallconsmate
,
femmequixotic
,
fleurette
,
florence_craye
,
frek
,
fuyukodachi
,
gina_r_snape
,
gmonkey42
,
goldenwolfrose
,
hannelore
,
jade_teacup
,
janus
,
jehanne1431
,
julian_black
,
karen_jk
,
kiraohara
,
laguera25
,
leavesofgrass
,
lesetchka
,
localfreak
,
lordhellebore
,
lordofhaladin
,
loveandpoison
,
machshefa
,
malcolm
,
meri_oddities
,
merrymoll
,
mingbutterfly
,
mirag
,
mountainlight
,
mysticsong
,
myx
,
nebulosity
,
neke
,
nezumitoo
,
noeon
,
on_se_dit_tu
,
orbits
,
pallas
,
pauraque
,
pine
,
pre_raphaelite1
,
psychick
,
psyfic
,
radar
,
ravenna_c_tan
,
scatteredlogic
,
schmoo999
,
sealcat
,
shyfoxling
,
sola
,
takemyrevolution
,
telegramsam
,
themostepotente
,
theowyn
,
thespanglemaker
,
thextra_cookie
,
underapaintedsky
,
utsi
,
valis2
,
valkyriekat_47
,
venturous
,
viggorlijah
,
witchdollie
,
wolby
,
wolfma
,
worthless_mite
,
xwordslingerx
,
ziasudra

[livejournal.com]
battyhelen
,
petite-therese

Subscriptions (93):
abigail89
,
ajnadragonheart
,
akemi42
,
alabastard
,
alabastardragon
,
alchemia
,
alisanne
,
amandagrabler
,
amanuensis1
,
azarias
,
battyhelen
,
battyhelen.livejournal.com
,
belluthien
,
bethbethbeth
,
chazpure
,
condwiramurs
,
constantcomment
,
cordelia_v
,
crazy_catlady
,
dickgloucester
,
dragonsinger
,
dragonsinger_dragoncrafts
,
droxy
,
faithinseeds
,
fallconsmate
,
femmequixotic
,
fleurette
,
florence_craye
,
frek
,
fuyukodachi
,
gina_r_snape
,
gmonkey42
,
goldenwolfrose
,
hannelore
,
jade_teacup
,
janus
,
jehanne1431
,
julian_black
,
karen_jk
,
kiraohara
,
laguera25
,
lesetchka
,
localfreak
,
logospilgrim
,
lordhellebore
,
lordofhaladin
,
loveandpoison
,
machshefa
,
malcolm
,
meri_oddities
,
merrymoll
,
mingbutterfly
,
mirag
,
mountainlight
,
mysticsong
,
myx
,
nebulosity
,
neke
,
nerdoverwatch
,
nezumitoo
,
noeon
,
on_se_dit_tu
,
pallas
,
pauraque
,
petite-therese.livejournal.com
,
pine
,
pre_raphaelite1
,
psychick
,
psyfic
,
radar
,
ravenna_c_tan
,
scatteredlogic
,
schmoo999
,
sealcat
,
shyfoxling
,
sola
,
takemyrevolution
,
themostepotente
,
theowyn
,
thespanglemaker
,
thextra_cookie
,
underapaintedsky
,
utsi
,
valis2
,
valkyriekat_47
,
venturous
,
viggorlijah
,
witchdollie
,
wolby
,
wolfma
,
worthless_mite
,
xwordslingerx
,
ziasudra

Communities
[View entries]

Feeds
[View Entries]

Linking
To link to this user, copy this code:
On Dreamwidth:
Elsewhere: